September 2001
The Forestwife
by Theresa Tomlinson
Faced with an unwanted marriage, 15-year old Mary de Holt flees into Barnsdale, followed by her nurse Agnes. They find the home of the Forestwife -- an herbalist who is the source of local legends and fears. The old woman has died, and so Agnes and Mary take her place. Their hovel becomes a source of help for troubled women. Mary becomes Marian the Green Lady of the woods. Joined by courageous women and men, Marian finds her destiny. And then, there are the visits by that Green Man, Robert of Loxley.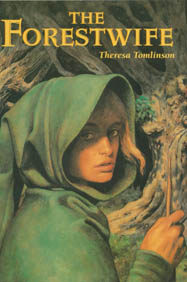 The Forestwife is a young adult novel told from Marian's point of view. The traditional Robin Hood characters appear, in slightly untraditional roles, but the focus is clearly on Marian. Instead of just being one of Robin's band, she's the leader of her own group of women. Philippa, Agnes, Emma, the nuns of St. Mary Magdalen among others are as interesting as the classic heroes. When I was drafting this review in my head, I was going to mention that these characters are far more interesting than that irritating nurse that appears in a lot of Robin Hood stories. Then I realized that Agnes is Marian's nurse. Tomlinson has made Marian's nurse an enjoyable character -- a feat which I thought impossible.
A lot of Maid Marian's early appearances in the legend have her as a huntress, a skilled archer and fighter. But she's been softened a lot in the children's novels of the last two centuries. Sometimes, she doesn't appear at all [and Marian wasn't a part of the earliest ballads]. Other times, she's in need of rescuing or is just the swooning girlfriend. In the past few decades, many writers have toughened up Marian again.
And so, Tomlinson's Marian is a very strong character. And she's not like the other Merry Men. Oh, she does learn to use a bow, but she's also a skilled herbalist. And she's passionate and dedicated to the cause of justice, becoming an even better leader than Robin. This Marian is not a damsel in distress, but she's not a cookie cutter Merry Man either. She is clearly the star of the novel, not just the hero's wife or girlfriend. I think Tomlinson's Marian makes a great role model, not just for girls but boys as well.
Tomlinson was born in Yorkshire, and currently lives in Sheffield, the city which includes Robin Hood's traditional birthplace of Loxley. As with her other novels, she draws on a lot of Yorkshire traditions -- many early Robin Hood ballads are at least partially set in Yorkshire. Still, once and awhile, the characters venture into the more familiar locations of Sherwood Forest and Nottingham. Her novels also use much history and folklore. Real-life 12th century events form part of her narrative, and the novel also uses mythic themes.

She also uses The Forestwife to explore the problems faced by women in the 12th century. I was actually surprised to see issues like still-births and scold's bridles dealt with in such a mature way in a young adult novel. Although the book explores a lot of women's history, it is not dogmatic. The problems faced by Marian and friends are educational but they also lead to interesting characters and situations.
Some people might be turned off by the young adult label. Don't be. This is a smart book -- that can be enjoyed by young adults [ages 9 - 12, apparently] and older adults as well. I look forward to being able to give this book to my half-sister in a few years.
The Forestwife has two sequels. Child of the May jumps forward 15 years and stars Little John's daughter Magda. The Path of the She-Wolf features Marian, Robert and Magda involved in the events of Magna Carta.
Check out an interview I conducted with Theresa Tomlinson.
Visit Theresa Tomlinson's Official Website.

THE FORESTWIFE TRILOGY by Theresa Tomlinson. This collects all three Forestwife books (slightly revised) into one big edition. And hey, my website is mentioned in the afterword. Thanks, Theresa.
Buy The Forestwife Trilogy: on Amazon.com

Buy The Forestwife Trilogy: Vol 1-3 on Amazon.co.uk

Buy The Forestwife Trilogy on Amazon.ca
Buy The Forestwife (book 1) on Amazon.com

Buy The Forestwife on Amazon.co.uk
Buy The Forestwife on Amazon.ca


Buy Child of the May (book 2) on Amazon.com

Buy Child of the May on Amazon.co.uk

Buy Child of the May on Amazon.ca


Buy Path of the She Wolf (book 3) on Amazon.com

Buy The Path of the She Wolf on Amazon.co.uk

Buy Path of the She Wolf on Amazon.ca