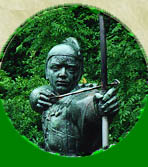 >














Most Recent Spotlight
April 2010
Wolfshead: The Legend of Robin Hood
AKA The Legend of Young Robin Hood (US Video title)
starring David Warbeck, Kathleen Bryon, Dan Meaden,
Christopher Robbie, Peter Stephens and Ciarin Madden
Sreenplay by David Butler
Directed by Johnny Hough
(Hammer Film Productions, 1969 - released in 1973)
The most recent spotlight explores a little-seen but very influential version of Robin Hood, one of the first to move away from tights and Hollywood pagentry.
Click here to visit the Spotlight.
Other upcoming spotlights will include the Henry Gilbert children's book Robin Hood and the Men of the Greenwood and the 1976 Robin and Marian starring Sean Connery. Oh, and some obscure little film coming to cinemas this May.
Text copyright, © Allen W. Wright, 2010.