My site has won the following awards, and I'm very proud of them all, but they were slowing up the loading time of my main page. So, I've moved them here.
In July 2006, I received an award from StudySphere in the field of British Mythology.
In October 2005, this Robin Hood site won the highly-respected Gold Award from Vie's Inn of Wonders.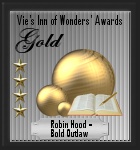 This was followed up by winning Vie's Inn of Wonder's Content Site of the Year Award for 2005.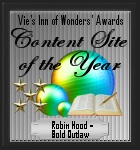 In September 2005, my site won a Hot Spot award from Book-Look.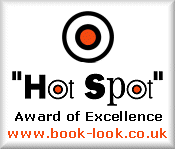 In August 2005, my site won both a gold Lynx Award, and also the Gold Site of the Month
There may be more prestigious Internet awards, but I've got a special place in my heart for the Emerald Boxing Glove Arrow Award. The Boxing Glove award was the extremely silly weapon of that Robin Hood-like superhero Green Arrow. It's a wonderful little award to have.
I belong to two Robin Hood webrings and a Swashbucklers webring. Here are their graphics. Once again, they were taking up too much space on the main page.