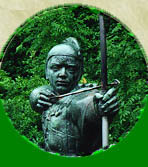 A collection of nifty places to visit on the web
Return to my homepage
My Friends
Copperlily (Alison Carter's page of web design and more -- she did much of the design work on my site. Great graphic designer and an even better friend.)
Gisburne's NASTY Knight Page (A website dedicated to Sir Guy of Gisburne, Robin Hood's dastardly enemy, as played by the late Robert Addie in Robin of Sherwood.)
The Legend of Robin Hood (A look at the Pagan themes in the Robin Hood legend, run by Hester.)
Puck Links
Many more Robin Goodfellow links can be found in my Puck Links section.
Puck - That Shrewd and Knavish Sprite Called Robin GoodfellowThis is my Puck site.
A Midsummer Night's Dream (Online, annotated version of Shakespeare's classic play.)
The Complete Works of William Shakespeare (You've read the best; now read the rest. Also features links to many other Shakespearean sites.)
Puck of Pook's Hill (Link to Project Gutenberg's online version of Kipling's tales.)
The Dreaming (dedicated to The Sandman comic book which featured Puck in some issues. This site is run by another user named Puck.)
Gargoyles (Surprisingly intelligent Disney cartoon with a lot of history and myth. Some episodes featured Puck, voiced by Brent Spiner -- Star Trek's Data.)
Charles de Lint (The master of urban fantasy! This Ottawa-based writer has written stories about Puck and the Pook of Puxill.)


Do you know of any other Puck sites that I should include? If so, please e-mail me!
Robin Hood Links