INTRODUCTION
The history of Robin Hood ... he became an outlaw when he killed some foresters. Except when he became an outlaw upon his return from the Crusades. Yet, he was truly the Earl of Huntingdon, outlawed by treachery or was it for debts? But in truth, Robin was inspired to action by Herne the Hunter. However, he really was a devout Catholic whose origin is untold. Unless he wasn't.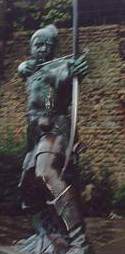 The legend of Robin Hood has been going strong for over 600 years. And in that time, Robin Hood has been a yeoman, a knight and an earl. He's been a courteous robber, a brigand and brawler, a medieval revolutionary and the servant of a Pagan god -- even a woman in man's clothing.
This page is about the history of the legend, and the way Robin Hood has been interpreted and re-interpreted over the centuries. I use the title "Wolfshead" probably for the same reason that so many movie and television bad guys have called Robin Hood this -- it just sounds so damn cool. "Wolf's-head" is an old term for an outlaw. Outlaws were just that, outside the law and its protection; they could be hunted by anyone. Wolves, menaces to livestock, could also be hunted by anyone. And so when an authority figure, like the sheriff, wanted to get everyone to hunt down an outlaw he'd cry "Wolf's-head!" Later the term went from being the cry to being a nickname for outlaws.
Please, keep in mind that while I have delivered papers at Robin Hood academic conferences, this page is not written in detailed scholarly style. It's in a friendly, website-style and is not written like an academic paper. Also, I have not combed through unpublished court records. I haven't read every Robin Hood story, nor discovered a long lost manuscript. This website is largely based off the research of others. And I have simplified things by grouping trends into categories. Often there are several different versions of Robin Hood at the same time. Over the years, I've found the more you learn about Robin Hood, the less you actually know. So, this site isn't the "last word on Robin Hood". If you're researching for a school paper, I strongly recommend reading some books on the subject. It would be best if you read more than one book, as scholars can examine the same ballads and plays, and yet they'll reach different conclusions from each other. If you want to see the books and articles that helped me, visit to my Sources section.
But as always, the most enjoyable way to learn about Robin Hood is to read the actual stories. Many of the ballads and plays that I refer to are online at The Robin Hood Project at the University of Rochester. Click on any highlighted text to be taken directly to that ballad, play or whatever. I'd like to thank Alan Lupack at the RH Project for allowing me to create these direct links. Much of the material at that site is under copyright.
Now, the greenwood awaits ....
Sources and Further Reading:
Click here to view the sources used to write Wolfshead through the Ages: The History of Robin Hood.
Text copyright, © Allen W. Wright, 1997 - 2010.