ROBIN HOOD IN
THE PRESENT AND FUTURE
So, where's Robin Hood at today? In just the past few years, he's been the star of a cartoon show, another TV series, new pantomines, and several novels and short stories. Many Robin Hood musicals are racing towards production. Robin Hood's 20th century descendant, Robyn, teams up with the Merry Men's children for time travelling adventures in the Canadian children's TV series Back to Sherwood. People have done science fiction versions of the legend, like in the novel, The Sherwood Game. Or "historical" novels like Nicholas Chase's Locksley, Parke Godwin's novels and Hood by Stephen R. Lawhead. Robin and Marian are even medieval detectives in a series of mystery stories by Clayton Emery. Humourist Spike Milligan took Roger Lancelyn Green's The Adventures of Robin Hood children's book and rewrote it full of modern gags, jokey rants and silly names in his 1998 book Robin Hood According to Spike Milligan. I'm told there's even a Robin Hood romance novel or three out there.
Modern Robin Hood scholarship really took off in the 1950s with a debate being Rodney Hilton and J.C. Holt. There have been numerous recent books and articles taking a critical look at the legend. The tales once considered "good enough for fools" are finally getting some respect in academia. Since this website began in 1997, there have been several international academic conferences devoted to the outlaw hero.
Where is Robin Hood headed?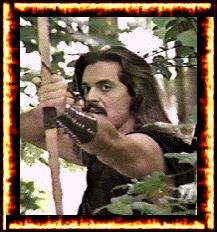 Well, recently, there have been many feminist takes on the legend, like Robin McKinley's novel, The Outlaws of Sherwood. Here, it's Marian who shoots for the golden arrow. Marian's also the star of Theresa Tomlinson's The Forestwife. In this young adult book, Marian is a healer and leader in her own right. Marian is also the main character in Jennifer Roberson's novels Lady of the Forest and Lady of Sherwood. And 2004 saw the publication of Maid Marian by Elsa Watson. Robin Hood's daughter Gwyn (played by Keira Knightley) was the main character in the 2001 TV movie Princess of Thieves. And Stephen Knight hopes and expects to see more feminist re-workings of the legend. And ecological ones and gay ones.
In the summer of 1999 there was a controversy in the mainstream media when Stephen Knight suggested that there were gay themes in the Robin Hood legend. Since then I've heard of three new Robin Hood tales to be published using gay themes.
And previously a cardboard bad guy, the sheriff's been portrayed in a more positive light. He's an honourable man in Parke Godwin's novels, just a guy doing his job in In a Dark Wood by Michael Cadnum, and a good and uncorruptable man fighting against the corruption around him in The Sheriff of Nottingham by Richard Kluger.
For the most part, there's a trend towards more real history. In most recent movies, he's not wearing lincoln green tights. Novels like Sherwood, which sets the Robin Hood story right after the Norman Conquest, weaves Robin in and out of historical events in a much more "realistic" way than some versions. [As an example of an unhistorical Robin Hood, in Princess of Thieves, John doesn't become king and his place is taken by Prince Philip, the highly-fictionalized version of Richard I's illegitimate son. King Philip is Gwyn's romantic interest.]
On the other hand, in The New Adventures of Robin Hood, you can find Robin wearing pseudo-medieval fashions straight from an LA clothing store and Maid Marian dressing like Xena. And dastardly Prince John gleefully sacrifices peasants to Celtic goddesses. This show cashs in on the popular trend of shows like Xena and Hercules. But to be honest, I don't think it captures the charm of the shows which started the trend. Still, it does have a strong following online. Obviously some people like it, and it should introduce new fans to the legend.
I suspect this series will have little impact on the legend as a whole. But who knows for sure? I wouldn't have expected the Arab Merry Man to be come such an essential element to modern versions of the legend.
I first wrote the words above - with some later rewriting - in the late 1990s. In 2006, a new Robin Hood TV series premiered on BBC One and later on BBC America. It capitalizes on current political issues with allegories to the war in Iraq and anti-terrorism legislation, and features a youthful (almost "boy band") Robin to appeal to younger audiences. In 2010, Russell Crowe played an older Robin Hood in a new feature film. (Originally he was cast as a heroic Sheriff of Nottingham.)
Toby Venables has flipped the legend on its head, focusing rather on Guy of Gisborne in his Hunter of Sherwood novels, Knight of Shadows and The Red Hand. Iain Meadows and Spiteful Puppet Productions have focused on the Sheriff of Nottingham in their award-winning Hood series of audio dramas. Mandy Webster joins many writers in focusing on Marian, this time the "Young Marian", beginning with her novel Viper in the Forest.
Also, recent novels such as Adam Thorpe's Hodd (based in part on Robin Hood and the Monk have shifted Robin closer to the violent outlaw he was in the earliest ballads. Steven A. McKay also adopts a more historical 14th-century setting in his Forest Lord series, beginning with 2013's Wolf's Head and concluding with 2016's Blood of the Wolf.
The cover of Angus Donald's novel Outlaw invites the reader to "Meet the Godfather of Sherwood Forest". This spawned an eight-book series concluding in 2016's The Death of Robin Hood. Along the way, Robin Hood went from being an outlaw gangster to a crusader and a respected lord. Donald's Robin searches for the holy grail and had a key role in introducing Magna Carta. And it is Donald's narrator Sir Alan Dale who suggests Magna Carta's most enduring section:
I'd be happy if I never had to fear being seized and flung into prison and left to die by inches without the chance to defend myself or explain. It is a fate no free man should have to face.
--The King's Assassin: A Novel of Robin Hood by Angus Donald
Earlier I mentioned the 1999 controversy around Stephen Knight's remarks about a gay Robin Hood. Since then several writers have taken up the cause. One such example is the 2016 comic book series Merry Men by writer Robert Rodi and artist Jackie Lewis. In this series, the bad guy's aren't so much concerned with taxes as inflicting a smothering morality on the land. Rodi and Lewis's Robin Hood is the former lover of King Richard. And yes, of course, there's a Muslim member of Robin's band. That's almost standard now. It is also only one of many Robin Hood comic books that have appeared in the past few years. We've seen a comic book Robin Hood in his original medieval setting, in fantasy realms, in the modern day and in science fiction settings. There have also been female versions of Robin Hood in the comics.
There are several Robin Hood movies in development in 2016. (Aren't there always?) Although early reports suggest these upcoming movies lack the inventiveness of the modern Robin Hood novels, audio dramas and comics.
In a sense, the history of the Robin Hood legend is eternally in the present. New writers can borrow any aspect of the character's 600-year biography.
Robin Hood will continue to take on new forms. I wonder what Robin will be like when I am old and grey. Well, he'll be eternally young and fresh. Of that, I am certain.
NEXT: Conclusions
Sources and Further Reading:
Click here to view the sources used to write Wolfshead through the Ages: The History of Robin Hood.
Text copyright, © Allen W. Wright, 1997 - 2016.