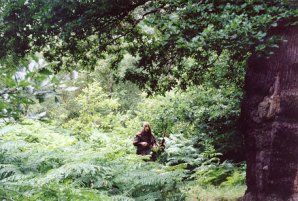 Was Robin Hood a real person? For centuries people have asked that.
Here's a look at real outlaws that may have inspired or been inspired by Robin Hood and the Merry Men, and historical information on the real Sheriffs of Nottingham, kings of England and others.
Prepare for the quest to find that elusive outlaw of Sherwood and Barnsdale.
CONTENTS
A lot of people are fascinated by the search for the real people behind the legend. And that's what this section is about. But it is not really what the legend of Robin Hood is about. The character as we know him today is more the product of centuries of storytellers contributing new and different ideas. If you're interested in the growth and development of the legend in ballads, plays, novels and film, please check out my Wolfshead Through the Ages section. If you want a guide to who the Robin Hood characters are, then please visit the Beginner's Guide area.